Feb. 2022
Sponsor Touch Panel PCs to Social Welfare Centers
The group photo of MTG team and Department of Social Welfare
As MACTRON GROUP (MTG) was founded from Taipei Taiwan and now to all over the world, we want to contribute to our mother city that grew us up.
「觸觸為你」 麥智精密捐贈觸控電腦至台北市社會局12處社福中心
產業電腦品牌-麥智精密(MTG)成立於台北市,直至現今已成功將品牌推廣至全球市場。我們一直期望回饋於扶植我們茁壯的扎根地。因此2022年2月23日在台北市政府社會局的協助下舉行了「麥智精密觸觸為你,用愛觸進智慧城市」捐贈儀式,捐贈觸控電腦至台北市社會局12處社福中心,提供給相關行政人員以及洽公民眾做使用,以加速行政效率和便捷度,打造智慧城市。
Thus, on February 23, 2022, we sponsored our touch panel PCs to 12 Social Welfare Centers in Taipei. The panel PCs will be placed in the lobby at each center for local citizens to use. The residents and the welfare service organizations are able to experience both efficiency and convenience.
We appreciate Department of Economic Development Taipei City Government for its supports in promotion of MTG. Not to mention that we were once the only compony who obtained the brand establishment subsidy program of Taipei City. We are proud of being a company of Taipei City.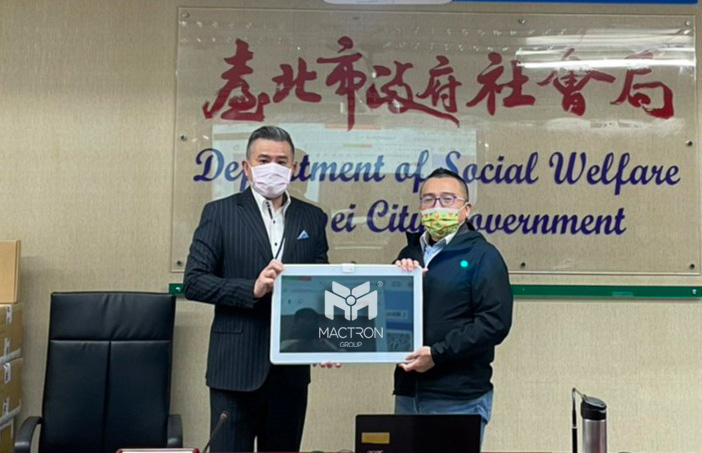 The sponsored touch AIO panel PC
在此特別感謝台北市政府產業發展局在MTG品牌推廣及再造過程中的扶植;此外我們以曾為當期台北市唯一拿下品牌建立補助計畫之品牌公司為榮,更以身為台北市的企業為傲!做為一個有溫度的品牌是我們的使命,「飲水思源是扮演企業角色、向公眾傳達社會理念很重要的一部分。」MTG營運部張經理表示,MTG將不遺餘力,取之於台北市、用之於台北市!推廣品牌的同時,更期盼讓世界看到更好的台北!
MTG CEO, Simon C. Lin received the certification of appreciation from the Commissioner.
The sponsored products
MTG always dreams to build a smart city. We insist that all tech-facilities should be based on the connection between each person, just like "we are a family," always says Simon. C. Lin, our CEO. We hope people can spend more time with families by saving time working.
Keep Love in touch, keep lives easier.
用愛【觸】進智慧城市,不單單只是意味著將科技產品置入生活之中,更是希望利用科技照亮著每一個需要愛的角落,以建立人與人之間的橋樑為基礎,來促進科技的發展。MTG執行長林哲勛時常和團隊夥伴說的,我們希望科技的進步是透過減少工作時間,擁有更多陪伴家人的機會。