April. 2022
MACTRON GROUP (MTG) is now published in ECD magazine!
The group photo of MTG team and Department of Social Welfare
Find MTG in the magazine of Embedded Computing Design!
The magazine will be available at Embedded World Exhibition in Nuremberg, Germany.
Moreover, MTG will participate in more exhibitions this year.
To see our products in person and know more about our future plan, come to visit us:
⬇ ⬇ ⬇Check the ECD magzine content ⬇ ⬇ ⬇ ⬇
---

Versatile – Mobile Type & Wall Mount & Desktop Use – Touch Embedded System!
---
MACTRON GROUP stands for "Transformer Team", which means we are flexible with the fast-changing market. M, A, C is corresponding to Medical Healthcare, Industrial Automation and Business Commercial market segments. Our vision is to become the most reliable symbol of branding ability with the best quality.
Our comprehensive product lines include PPC (Touch Panel PC), TDM (Touch Display Monitor), BPC (Embedded Box PC), and MTP (Mobile Tablet PC) to satisfy global partners' market requirements.
With capabilities spanning the value chain, and by taking full advantage of the latest technologies, MACTRON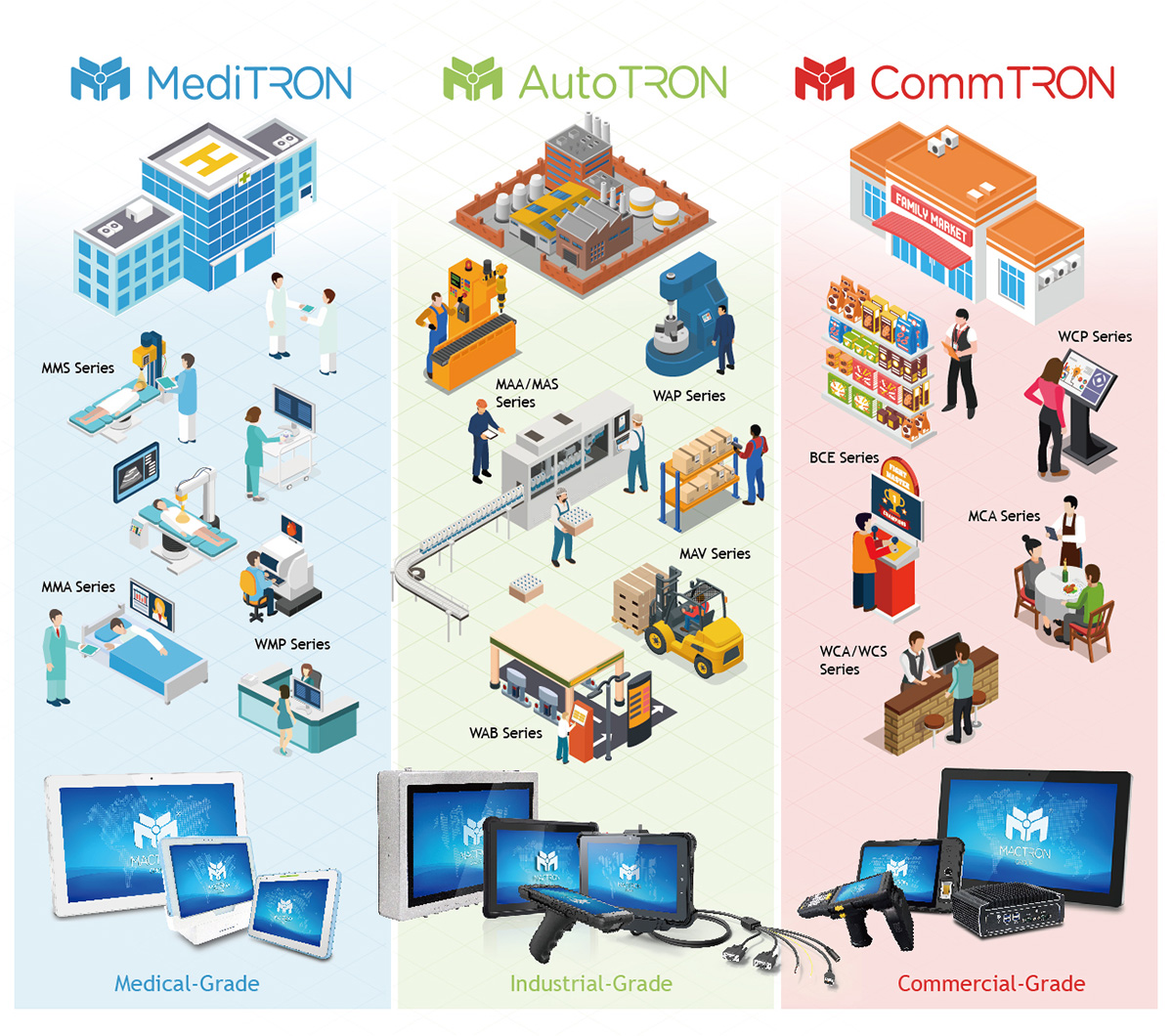 GROUP is committed to delivering products with forward-thinking features and best-in-class customer service.
To make a "Fantastic Life with Touch Science!", our passion for Touch Science IT is second to none. It is MACTRON GROUP's visionary mission to fulfill our partners' requests based on our professional customization capabilities and cost-effective solutions for the projects of Touch Science IT!
Features
Medical Healthcare (MediTRON) Solutions are used to power devices and platforms that are streamlining health care delivery and improving patient care.
Industrial Automation (AutoTRON) offers Total Solutions by providing real-time feedback to guide the manufacturing process, and utilizing cyber-physical systems to perform difficult tasks.
Business Commercial (CommTRON) Solutions include Touch Panel PC, Touch Display Monitor, Embedded Box PC and Mobile Tablet PC – which are the key building blocks for powerful kiosks machines and related application usages.