expandability
(ɪkˌspændəˈbɪlɪtɪ) noun
the quality of being able to expand or to be expanded; expansibility
~ Collins English Dictionary ~
MACTRON GROUP presents its expandable fan-less slim type PCAP multi-touch 10.1" & 15.6" panel PC - WCS1010 & WCS1560 - featuring Intel® mobile Celeron® N3160 with TDP 6W, and N3710 as optional platform of your choice.
The slim design provides only 24.2 mm in thickness for WCS1010 and 27.2 mm for WCS1560, yet the functionalities are not limited by its sizes.
These tiny, slim figure Panel PCs are equipped with at least 5 USB ports. Allowing you to adapt various applications for the customers. And with the embedded pogo pin design, providing modular devices for fast & easy installation to maximize the expandability of the panel pc.

The modular pogo pin devices are Mag-stripe Reader, NFC, 2D & 1D Barcode Scanner as optional accessories.
NFC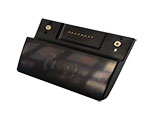 ISO/IEC 14443 Type A/B, R/W up 848Kbits
ISO/IEC 18092 FeliCa R/W upto 424Kbits
Support MiFARE 1K/4K,
Frequency : 13.56Mhz
MSR
ISO 7810 / ISO 7811 /AAMVA
Reads 3 track data
Message format : ASCII
Card Speed 15.4 to 152.4 cm/s
2D Barcode
Honeywell N3680 engine
CMOS sensor 640*480 pixels resolution, 30f/s
White LED illumination; red LED dot aimer
2D: PDF417, mPDF417, QrCode, Aztec, Data Matrix
1D: Codabar, Code 11, Code 128, EAN-13, EAN-8, …
1D Bardcode
Marson MT780 engine
Light Source 625nm visible red LED
Sensor CMOS Linear Sensor
Scan Rate 620 Scans/ sec (Smart Detection)
Resolution 4mil/ 0.1mm
Also the optional stands offering even further flexibility to comply the requirements of your projects. The optional stand comes in 3 models.
Stand A
Easy Stand (without IO),
Dual Hinge
Stand B
IO (USB*2, LAN*1, UART*3, AC-in)
Dual Hinge
Stand C
IO (USB*2, LAN*1, AC-in)
Dual Hinge
Contact Us
+886-2-2795-1668